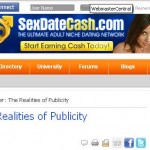 Many thanks and our deepest appreciation to M. Christian and Kathee Brewer of YNot, for the opportunity to talk shop on publicity, public relations and how they relate to the adult industry in the interview/story A Shout or a Whisper: The Realities of Publicity http://www.ynot.com/content/117994-shout-whisper-realities-publicity.html
Jay and I both give major thanks to M. Christian for noting one particular difference between Black and Blue Media and many other porn publicists:
Never heard of Black and Blue? There's a reason for that. The company has been around since 2004, but Ziegelmeyer and Moyes cling to an odd notion that what they do is about their clients, not about them. Consequently, you've probably seen more evidence of their work than you realize.
Yeah, we are old school in how we work. Our clients should be household names, not their press agents.